Corporeal Sky Music (2022)
An outdoor experiment to explore making new vibrational soundworks with local community. By meeting and taking them through the Berlin neighborhood, lying horizontal inside the Buzz Bike. Then talking, and responding to their feedback to alter and develop other approaches.  Buzz Bike is an extended cargo bike built for one cyclist and one or several passengers who can lie back in its 2m padded box while it plays and vibrates with eight channel compositions, transporting audience passenger's minds and bodies into new sonic experiences.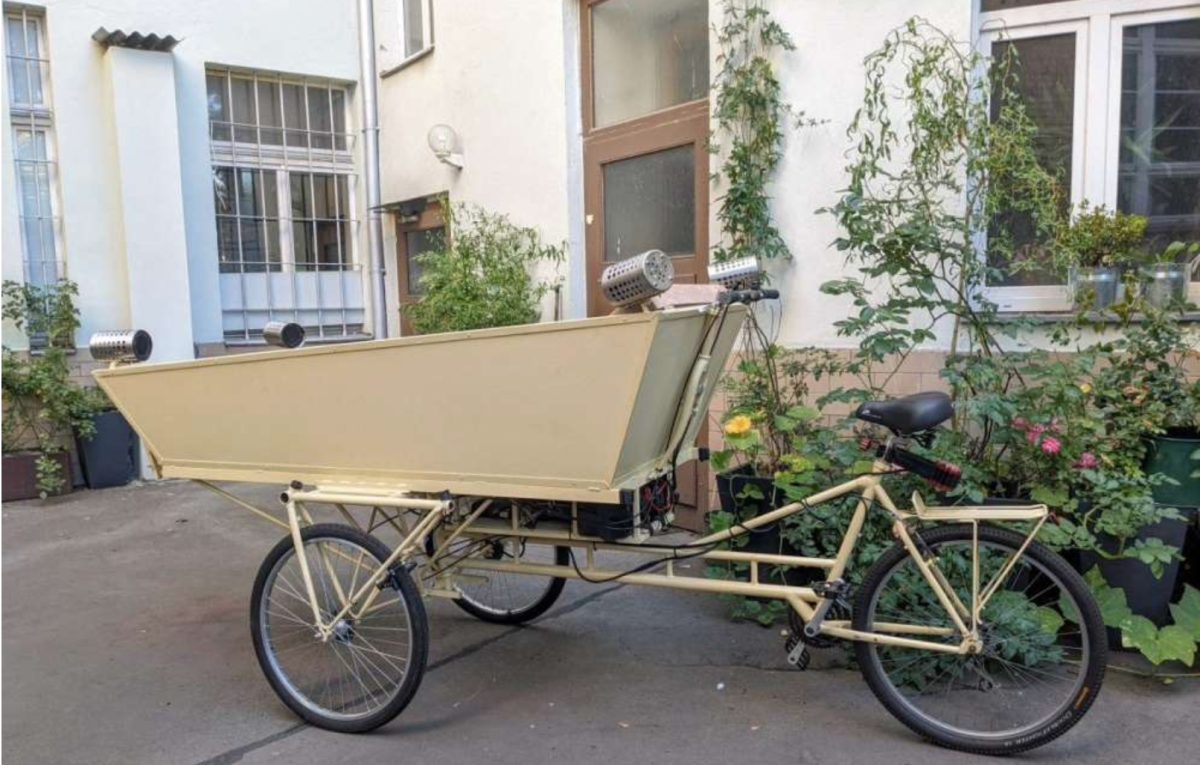 Made in the UK, Buzz had first come to Europe in April to make and perform twenty two twenty two at Rewire festival, den Haag. Through this process Matthews discovered that technical improvements needed first to be made before any Berlin research could begin. So, first wheels were replaced with strengthened ones, more powerful bass transducer amps were installed which in itself increased power demand so that 2 x 12V batteries were necessary plus a switch.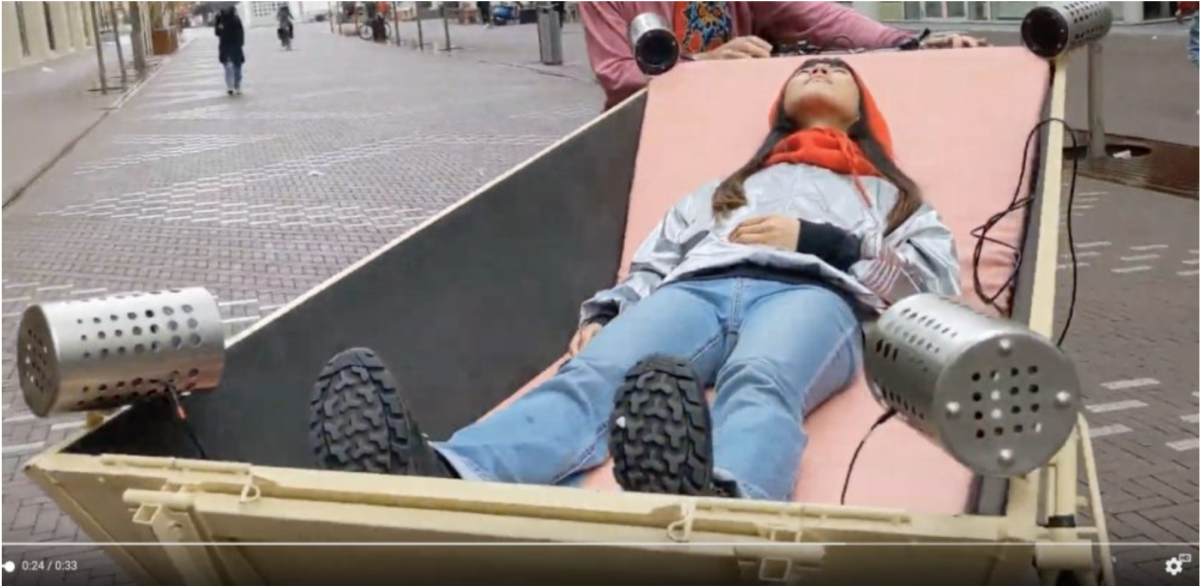 The inner plywood panels then rattled so they were fixed and padded. The RPi computer needed a more secure housing with a new power up/shut down system and 8 channel volume knob to be made and installed. The mattress was also replaced with the most dense foam for more efficient vibration transfer.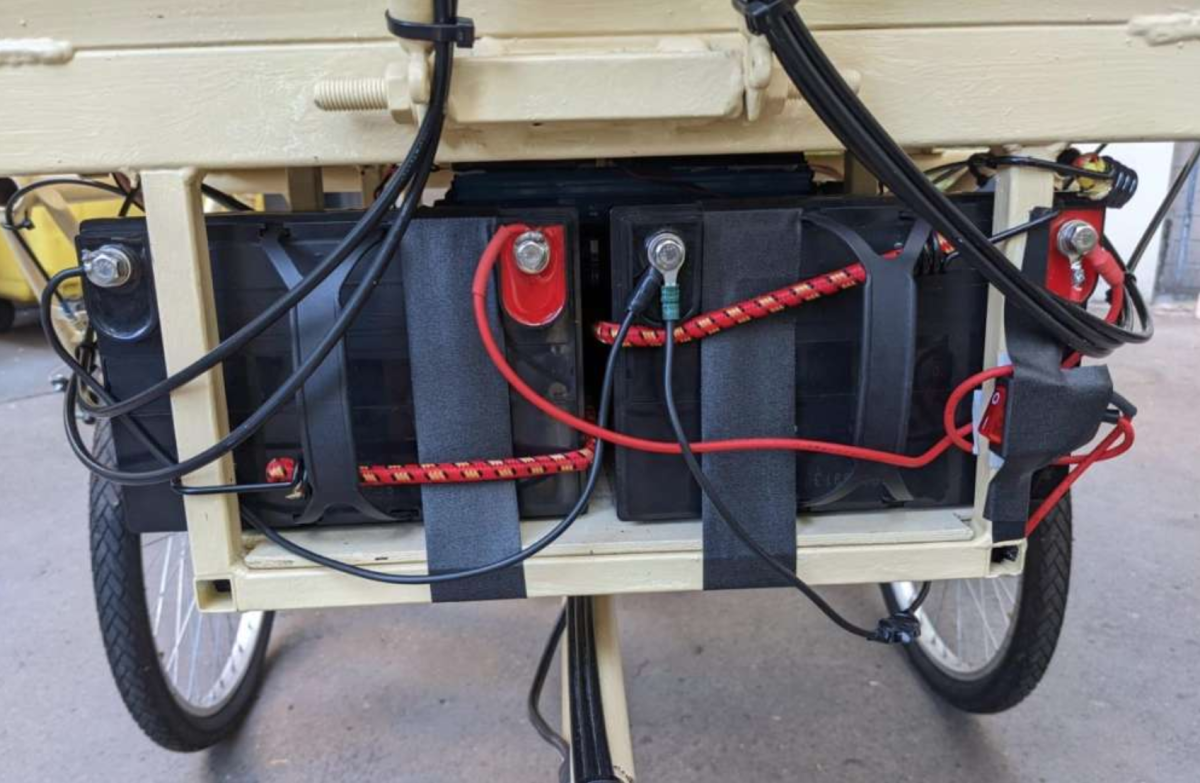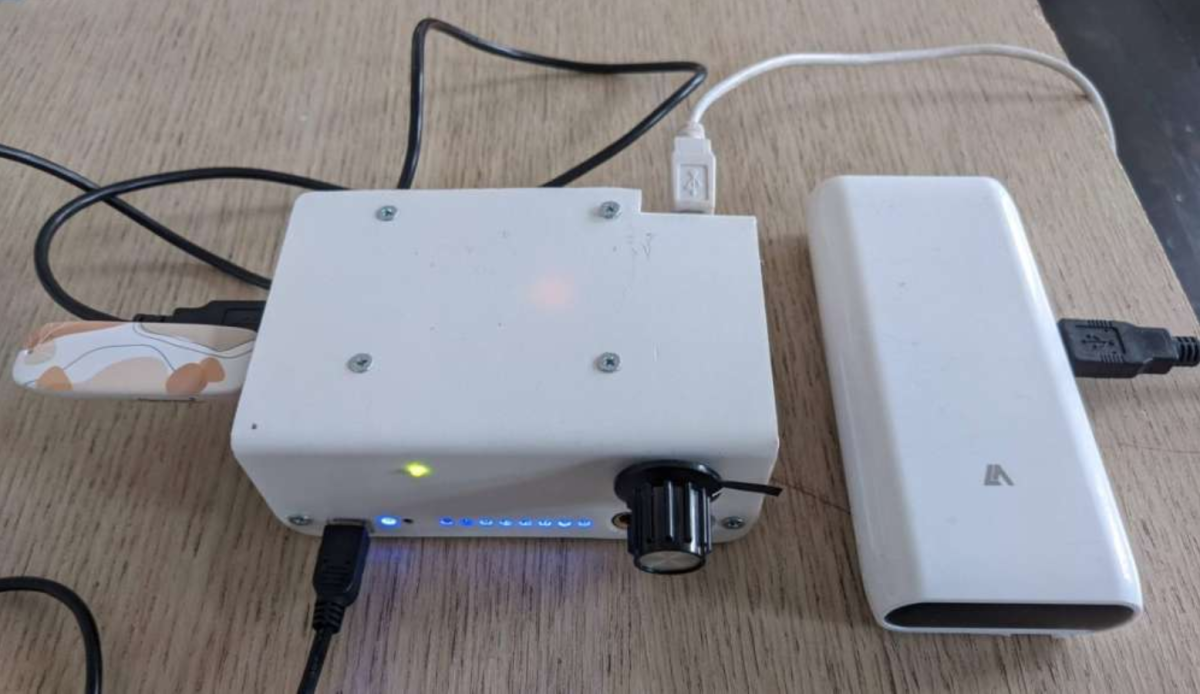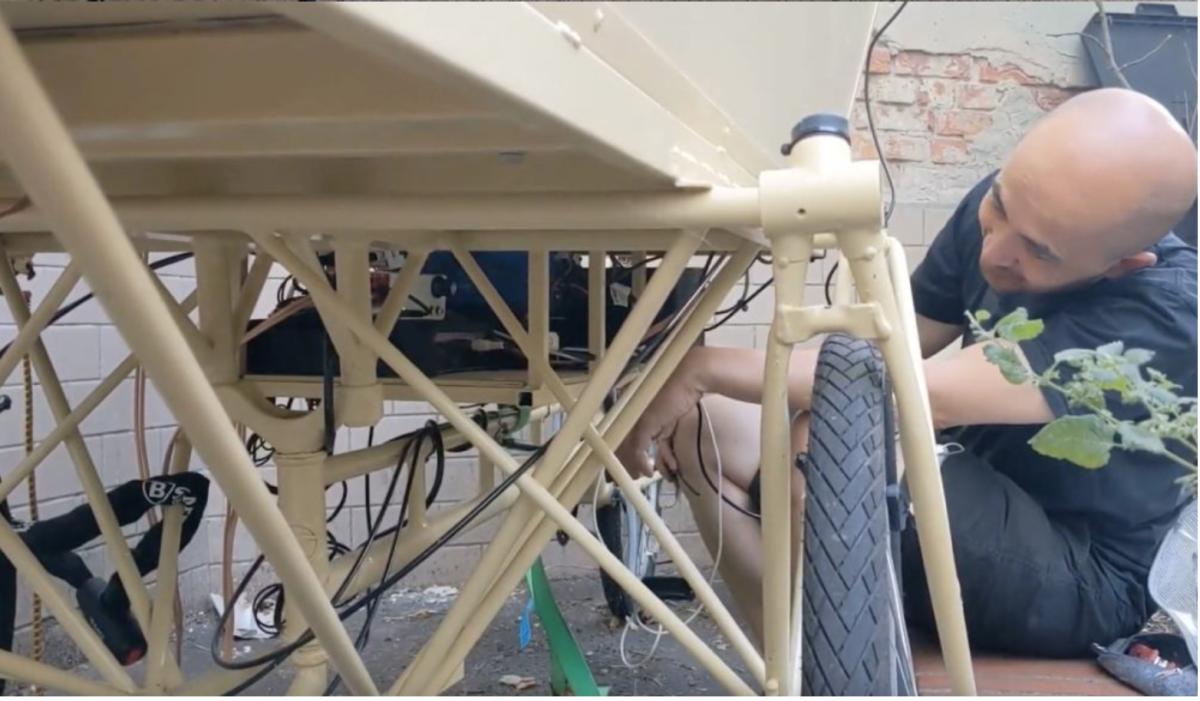 Finally, Matthews could begin compositional work lying inside the Buzz in the hof.  Initially she began by remixing twenty two twenty two, whose weakness in den Haag had been that audience were not able to receive the ultimate vibratory experience or even fully hear its harmonic and timbral complexities due to the nouise of the location. Her process then was to work with this focus whilst lying in this outdoor studio, then on the street with city noise and open acoustic, then taking out passengers for rides, after which she made short interviews discussing their experience, reflecting and using their feedback in the remixing/composing process that followed. (SCROLL to twenty two twenty two LINK at bottom of page)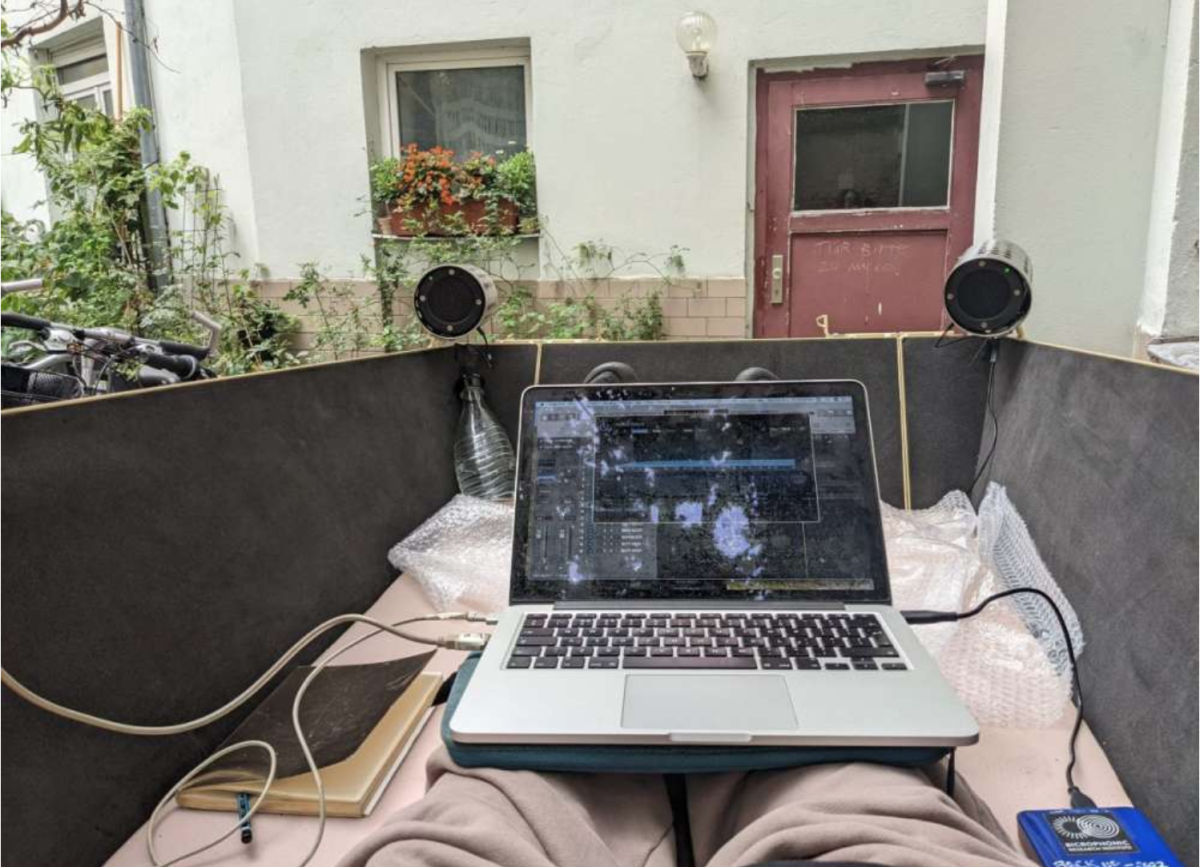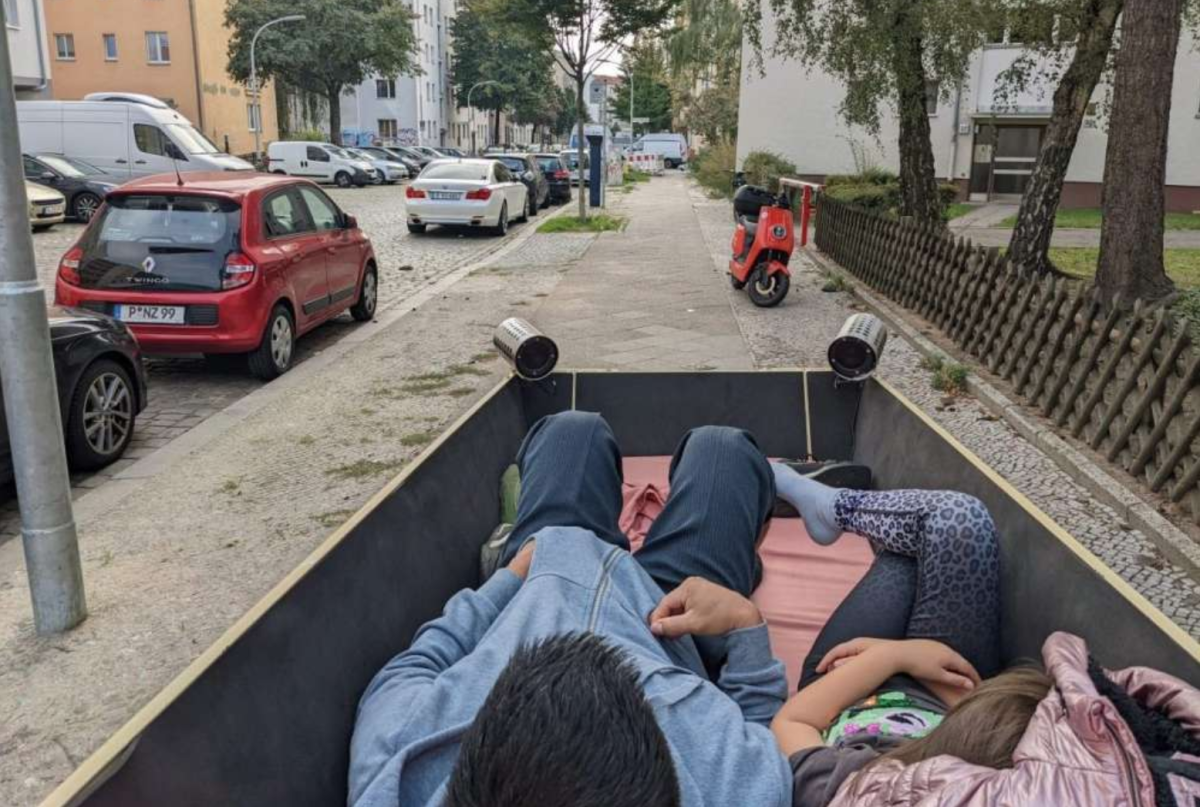 However, it was the surprising discovery that almost no passenger was interested to comment on the music they had experienced that caused a change in methods. Kaffe is the composer so it is up to her what to play was the sentiment. Passengers just lay back and were grateful for the sonic immersion that left them transformed, all with unique experiences but with no interest in commenting on what could have been different.  So rather than make a series of short studies developed through audience feedback as originally planned, Kaffe proceeded solo, reflecting on what she learned after each and every ride to continue the making. (SCROLL to end of page to find overall outcome)
This process inspired the making of a 2nd drone piece but something more energising and uplifting. The result was in strings. A continuous work from  the recordings of a violin playing open strings and the violin maker tuning frequencies. Here each string/note was played with a predetermined attack, speed, volume & bow pressure for 5 mins and as seamlessly as possible. The aim was to make something dynamic using unfamiliar violin sounds such as scrubbing, tapping, harmonics producing apparently endless notes whose meanings were altered by other harmonies rising or falling beneath. Her technique was to improvise with how these combinations sounded, pin the first, then move onto the next to create the structure.
Motion she made through panning the backwards and forwards action of the violinist, then doubling individual pitches with all the variety of live play across the stereo. This process also meant that she could first work flexibly in the studio, also adding the Elka organ & Microbrute synth for bass, with a faster final mix in the outdoor studio in Buzz 8 channels. Again she tested the result with herself before taking out the public for rides with interview after.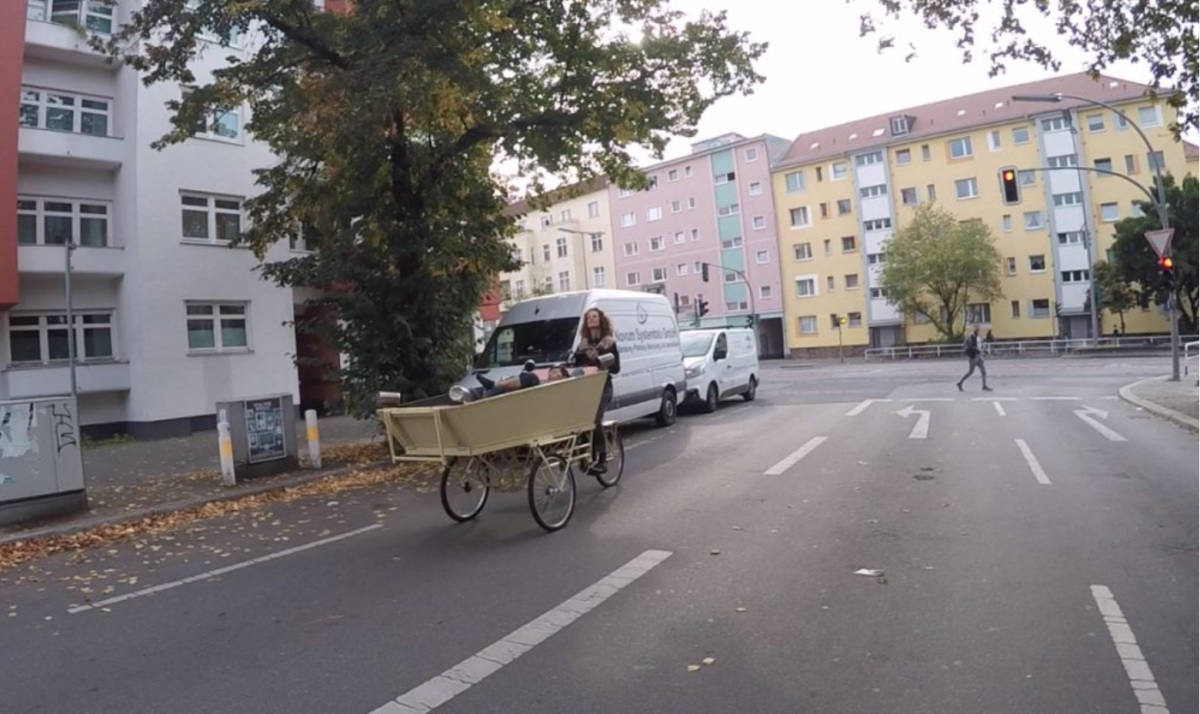 This outcome inspired 3rd work, we play frequencies. A sculptural work that used certain sine tones played and moved between certain speakers and therefore to certain parts of the body.
This is the practice Kaffe began with Sonic Bed . However, again due to learned audience response, she worked with her own body as the score, lying in Buzz with her laptop drawing tones under and around her body and recording them. She also worked with silence between the sound shapes to increase body listening in the passenger, rather than encouraging this dissolving they were doing into drone music. Once she had the basic shape, she then finalised it on the street and park. Then invited passengers with whom she also took greater care with the route.
Each ride is a solo performance. The cyclist is also a composer, adding greater or lesser chance of noise (street) or calm (parks), the speed at which they ride, and whether to take the pavement or cobbles or through the endlessly disruptive roadworks. These films give only an idea of the Corporeal Sky Music experience. You have to come ride the Buzz to understand.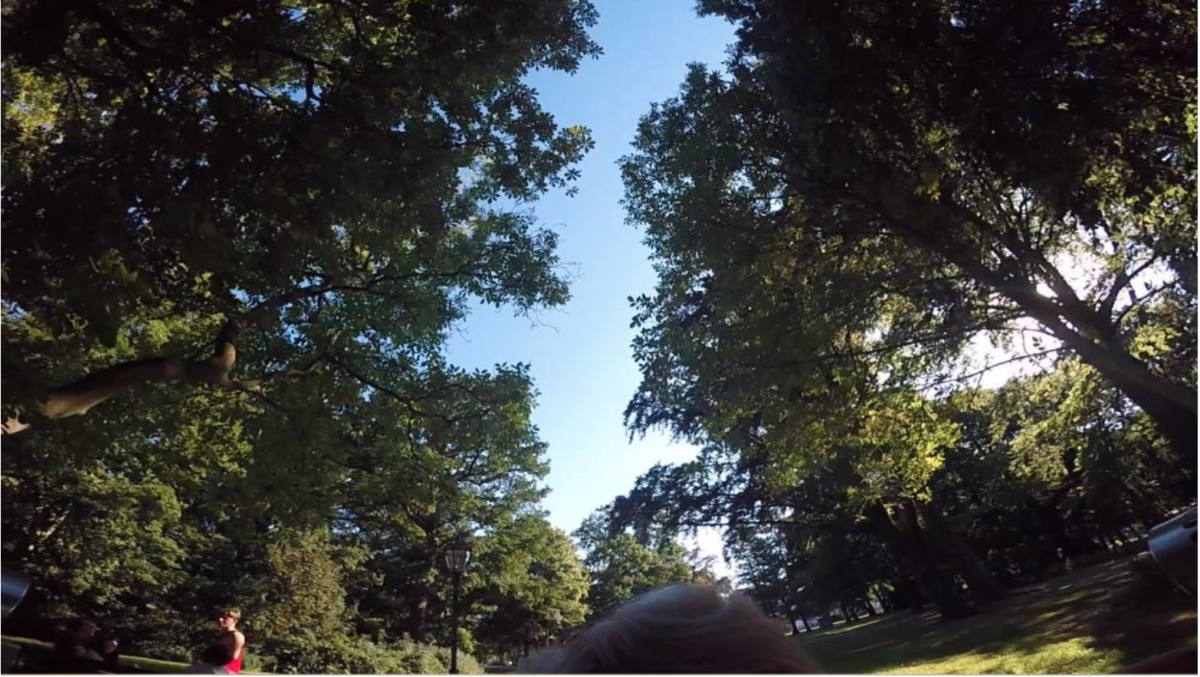 This project had different outcomes to what was anticipated, but more importantly, it realised Buzz Bike as a robust and viable instrument to compose for and perform along rugged streets outside. Its potential is massive. The central aim now is to really compose for it, with and in Berlin. To make compositions that will connect to and change with different aspects of the passing architecture as it moves. To be able to easily roll with any audience all over the city. Technically, this means installation of the BRI GPS to mapping system as well as installation of electic support for cycling. Discussion and planning are already underway.
Overall this is the simple bit. The work will be in building the creative system to enable such an intention. Hope for on the street action to take place early summer 2023. News will follow.
Conceived and designed by Matthews, Buzz Bike (UK 2018) is an ongoing project of the Bicrophonic Research Institute. Corporeal Sky Music has been enabled by the Residenzstipendium, Fonds Darstellende Künste e.V. Berlin, supported by TNT Theater neben dem Turm Marburg.
twenty two twenty two composition for den Haag can be found HERE.