no scent or colour (2021)
A new Enviro Bike project at Sonic Arts Week 16-24 July 2021, directed by the BRI's Kaffe Matthews in collaboration with Lisa Hall, commissioned by The Auxiliary Project Space.
Air pollution transformed into live sound and music while you ride, with invisible 'Air Reporters' to guide. From the cleanest of air to occasional extreme spikes of pollution wafting through the town centre, Enviro Bike (the new version) provides a super chilled sonic ride with occasional moments of terror.
The Enviro Bike is a tool to connect the rider to imagined beings from the future who have evolved to live on our now polluted Earth. Beings who can sense and see the pollution in the air that is now harmful. Through the bike these Air Reporters emit a world of new sound that they make by reading the passing levels of particulate matter. It surrounds the rider in a sonic bubble and informs them about the air they breathe as they ride.
While the Air Reporters generate these sounds, they also take the opportunity to talk to these  humans of the past. They relay a potential future in an attempt to help avoid it. They describe the contents of the invisible air – the dangerous particulate matter that wafts around the globe and along the streets, or the clean air that billows in from the remaining clean spaces. They talk of the last surviving towns and rural spaces that upheld clean air until the end. They tell the riders about their own evolved bodies that have grown defensive attributes to survive the hostilities that ultimately prevail from the global pollution. And they invite the rider to engage in their passing environment, in a way they might not yet have done.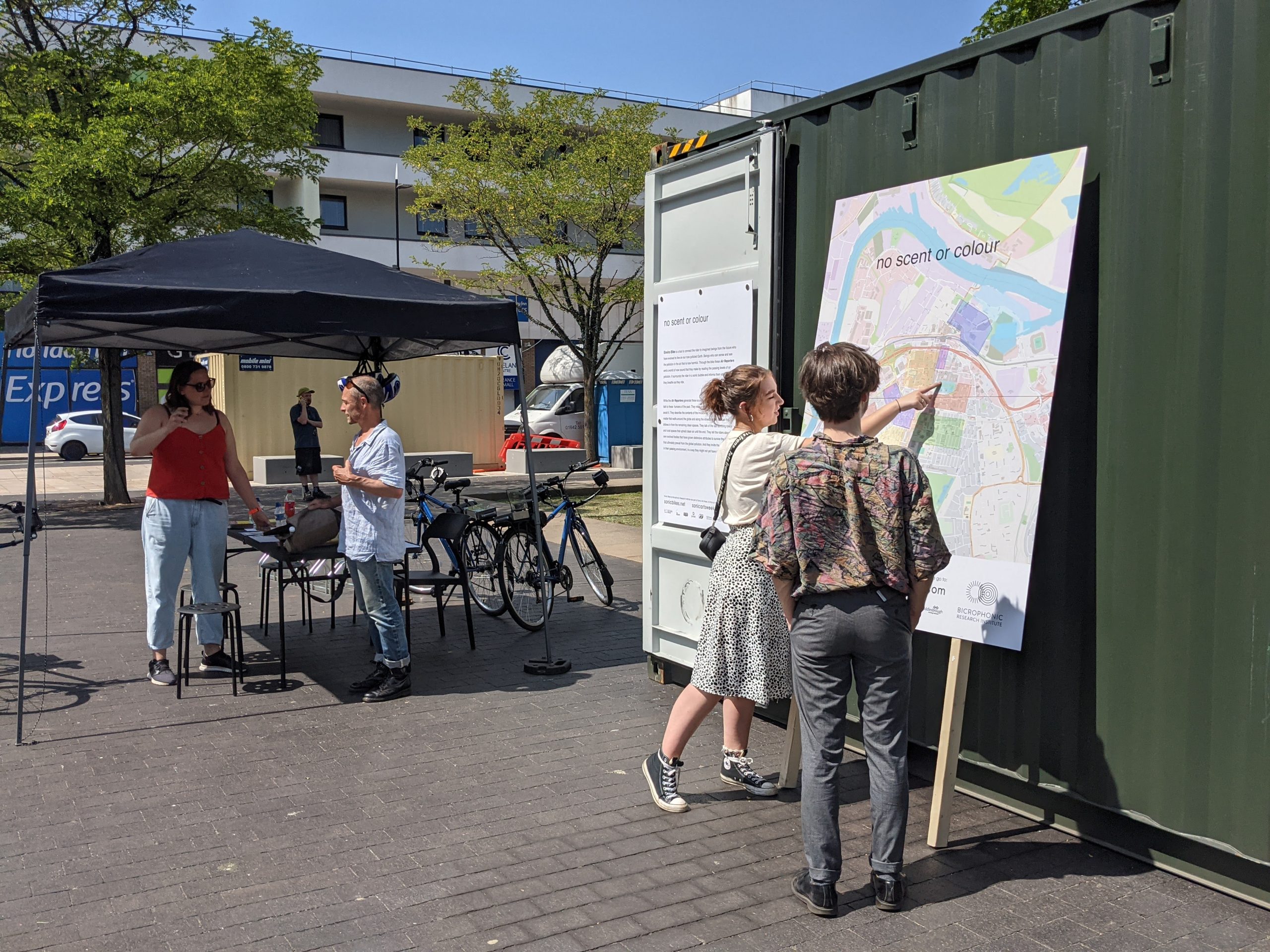 Riders can explore anywhere to hear the changing levels of air pollution, with the Air Reporters additional texts, found within these coloured zones marked below, enabling space for riders to think beyond the immediate as they explore.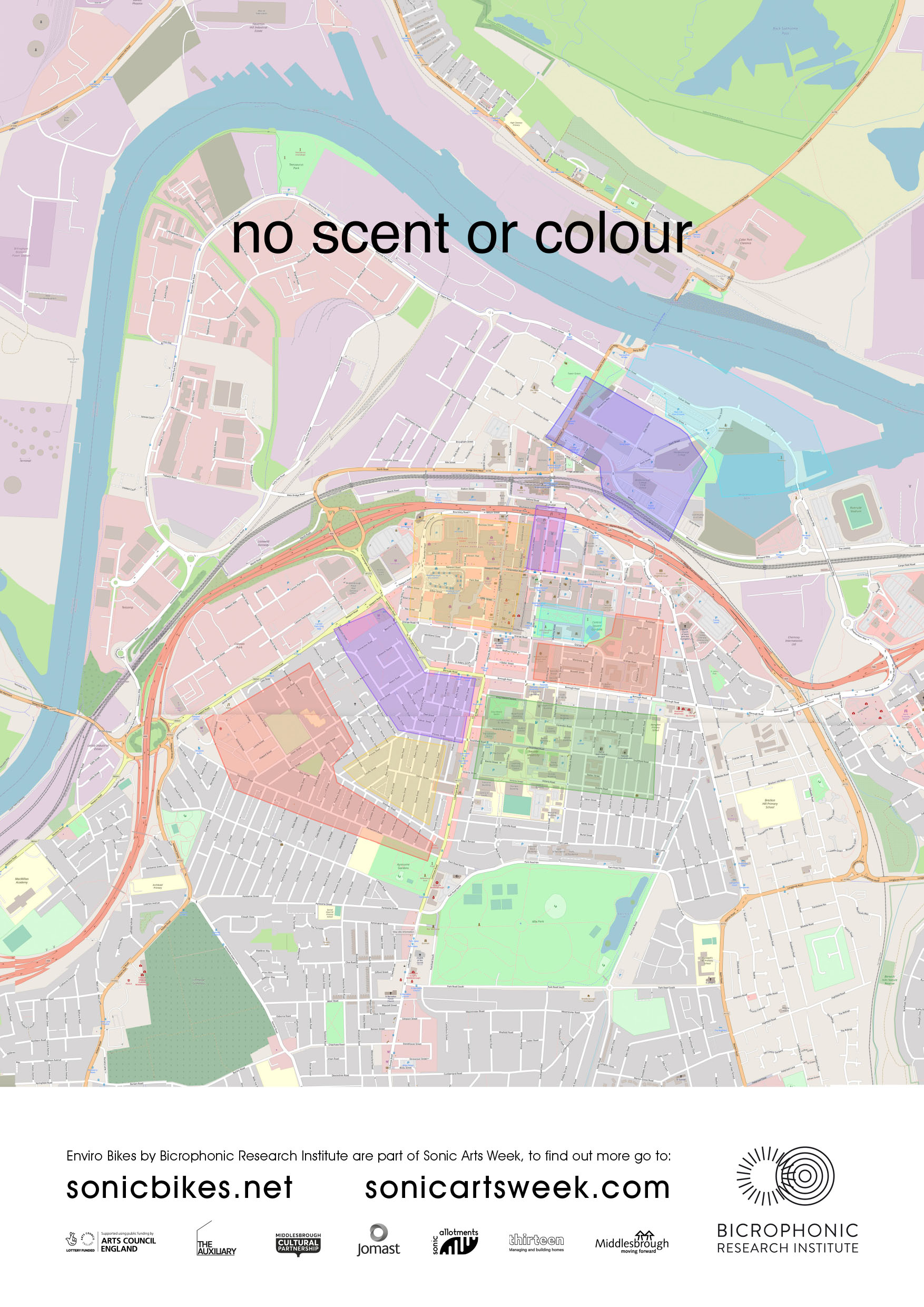 Enviro Bikes also record the air pollution data from each ride so that a growing database of site-specific figures for Middlesbrough is gathered. FIND Middlesbrough Air Pollution data here.
Each ride is also visualized to show the pollution levels heard along that route, adding an extraordinarily tangible addition to any riders experience.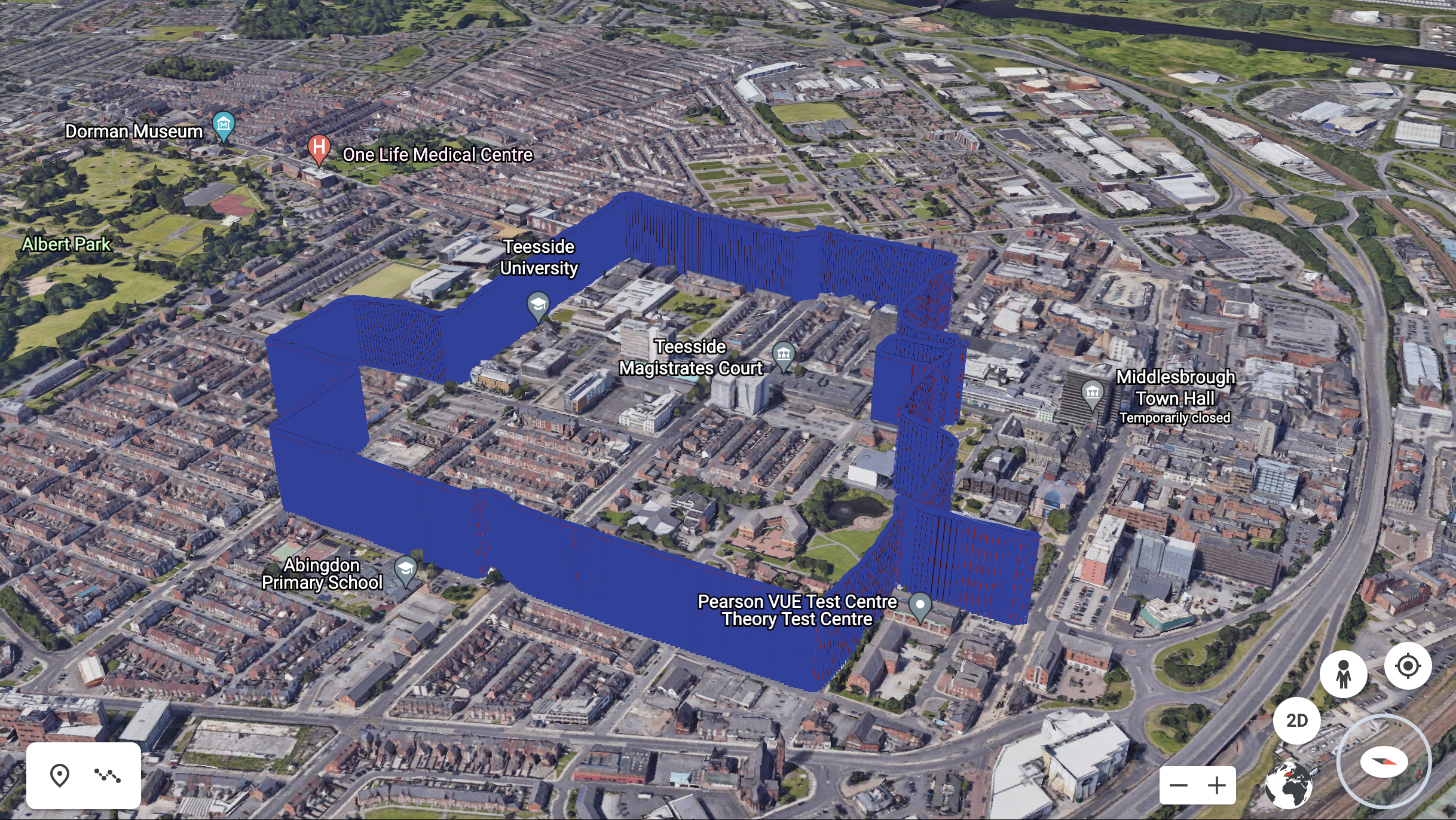 Enviro Bikes are made by the BRI ; sound for this project by Kaffe Matthews and Lisa Hall, hardware by Sukandar Kartadinata, Pure Data development with Federico Visi and consultation with FoAM-Kernow.
The Sonic Arts Week team led by curator Liam Slevin included dynamic support with on-the-ground production team Jennie, Georgia, JJ, Connor, Jamie and more. Many thanks to all