News
BRI on CVFM 
BRI on air with Ellie Lowther on CVFM! We're popping into the studio today, 23 Feb, to meet Ellie and talk about the new sonic bike project we're working on for Summer 2020
2020 The year of the Sonic Bike
Sonic cycling is evolving – we're developing new bikes, new tech, new compositions, new performances and new sensors in 2020. We, The Bicrophonic Research Institute are getting ready for a busy year ahead.
Sonic cycling, bicrophonics, has been around for almost 12 years. Initially it was a small group of bikes, each with names and handbags stuffed with kit. Now the fleet of sonic bikes includes kids Sonic Bikes, Sonic Trikes, Sonic Kayaks, Sensory Bikes, a multiperson Buzz Bike and they' re data collecting tools too.
Throughout, the bikes have always been site specific composition gadgets, where sound and music is mapped to spaces so that it changes as you ride whilst playing to you and the passers by. Today this could be thought of as an embodied sonic augmented reality. The sounds are pinned to places, the sound is made specifically for each of these places, it's heard in situ simultaneously with the rest of the world, heard not through headphones, but with our whole bodies flying through spaces, zipping around on bicycles. The real world environment and its own sound is enhanced and becomes layered.
The bikes are also very much instruments, instruments that you ride – some kitted with sensors so that you can play and transform the sound depending on how you move the bike. 
Kaffe has composed numerous sonic bikes operas for these with local communities, making audible immigration issues, water pollution, heroin addiction, bringing works of fiction back to the streets that inspired them, collaborating and re-presenting histories together through story, rap, song, scratch choirs, musicians and all kinds of electronic processing. Collaborators have also worked with Kaffe to make their own sonic pieces in parks in London and Berlin as well as the environmental protest ride Animals March that squawked and roared through central London for the Environmental March 2015. 
This year so much more is moving on, we wanted to tell you.
Strap On Sonic Bike   (SO Sonic Bike)
Exactly what it sounds like. A Sonic Bike system that will strap onto anyone's bike. Bring your own bike, strap on a kit, and pedal off into a new sonic landscape with comfort and ease. This approach we think will make sonic cycling more accessible and easier to maintain. Could you encourage your local library to store a few for example? It also means we can ship these systems far and wide. In development this summer.
Dancing Sensory Bikes
Our Sensory Bikes have six sensors running on them, receiving data about how the bike is moving to synthesise the sound that plays out. These Sensory Bikes make sonic cycling a more performative experience, encouraging you to hop, bend, bounce, cycle in circles. You literally can play the bike as an instrument.  We're looking at making a public experiment with them in Lisbon at the Invisible Places-Lisboa Soa festival out door park site. We'll keep you posted.
To prepare, we will be running a Sensory Bike bending workshop in Berlin mid August.  If you're interested, please let us know. 
Environmental Bicrophonics
Last year the Sonic Kayaks added in the gathering of water turbidity data (cloudiness, informing water quality investigations) as well as beginning experiments into air pollution sensors. This year we're hoping to introduce the air pollution sensor to the Sonic Bike kit.  This will collect air quality data of the sites and feed into citizen science projects, as well as be a possible other input for the synthesis and generation of the bike's music.  The quality of the air will become audible. 
Air quality sensor research will get underway on Sonic Kayaks in April, in Cornwall UK, and if our lab is successful, we could move the tech onto the Sonic Bikes later in the year. We will keep you posted.
Buzz Bikes
The first ever sonic Buzz Bike was made in 2018 with Coventry's Festival of Imagineers. And it's time to shine will be coming soon…. This new design of a customised cargo bike has a large vibrating wooden chamber for passengers to lie in and feel the sound and music move as well as hearing it. The Buzz Bike brings vibration into the experience, but it also opens up sonic cycling o audiences who don't need to pedal – to passengers!  We're planning to make more of these this summer.
Compositions
Currently we have five new compositions being developed for the year ahead by the whole bicrophonics team. We're researching nutrition, air quality, mental health, public space and we're looking forward to meeting communities in all of these sites to discover what they are thinking about too.  As each project gets closer, we'll share the festival dates. 
The Sonic Kayaks workshops last year began exploring navigation – to enable inclusive independent kayaking for visually diverse communities. Kayak composition is great for way finding experiments as without roads and paths out there on the water we're left to make these routes ourselves. This throws the compositional process wide open whilst moving in nature on the surface of a quiet lake. 
The new dancing Sensory Bike performance will also open new approaches to composition – for multiple bikes to improvise with.  Sensory Bike bands?

Do get in touch if you'd like to be involved in any of this!
the BRI

Participatory project coming to Middlesbrough, come meet us February 20th 2020
We're working on a new project in Middlesbrough commissioned by The Auxiliary,  where we'll be making 6 new sonic bikes and making a new composition together with local residents.  If you're interested and want to get  involved, please come to meet us in February downtown.
22 Feb | 12-4pm | Pineapple Black. Full details here
This unique new bike team will be based in Middlesbrough at MIMA for Sonic Arts Week July 18-25, Orange Pip Festival August 2020 and Middlesbrough Art Weekender September 24-27 2020 then will remain the Tees Valley for further compositions made by you.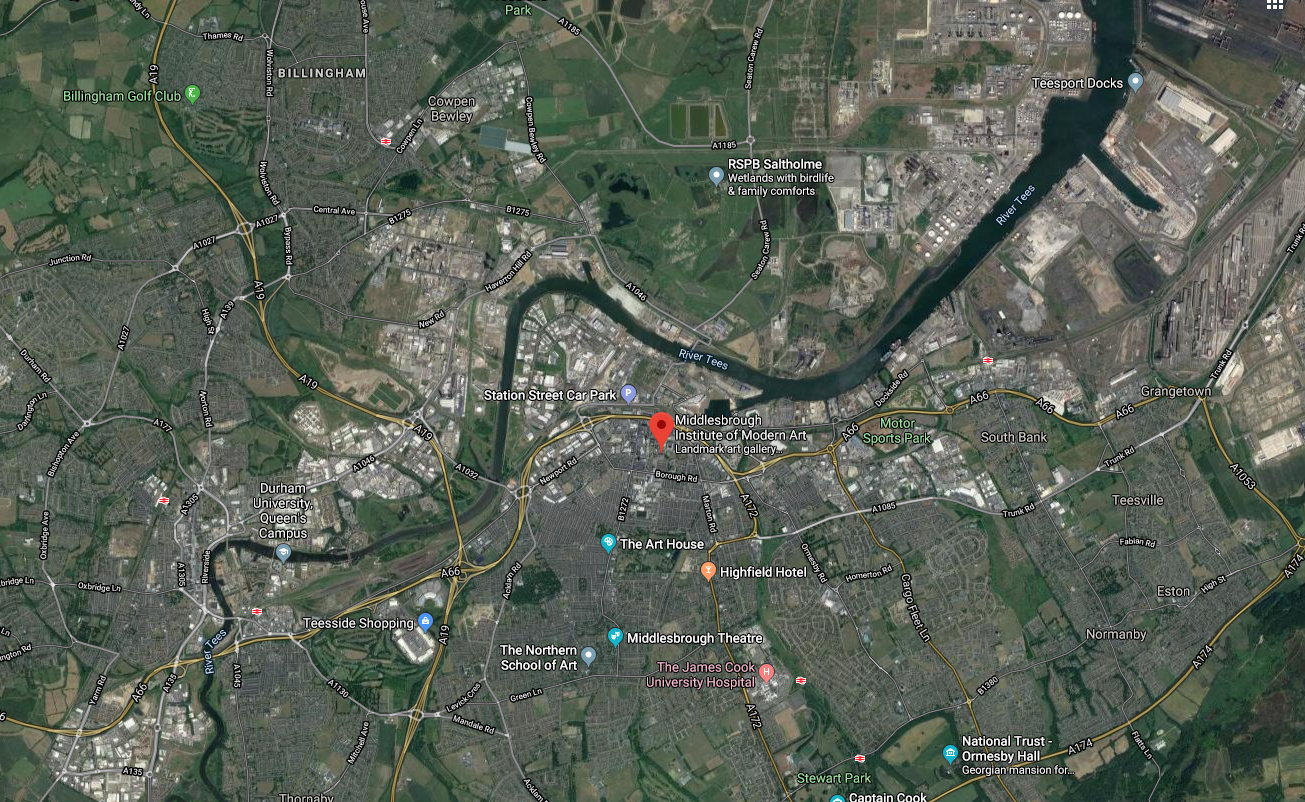 Kaffe interviewed by WTV on latest sonic bike work 'To find a white bear'.  AMOK Festival, Bruges.
' To find a white bear '   – our latest sonic bike jam closes in Bruges.
Commissioned by  AMOK festival, performed 9-17.11.19. Shocked and delighted local audiences who discovered a Bruges they had not yet known. Follow the projects RESEARCH BLOG  here.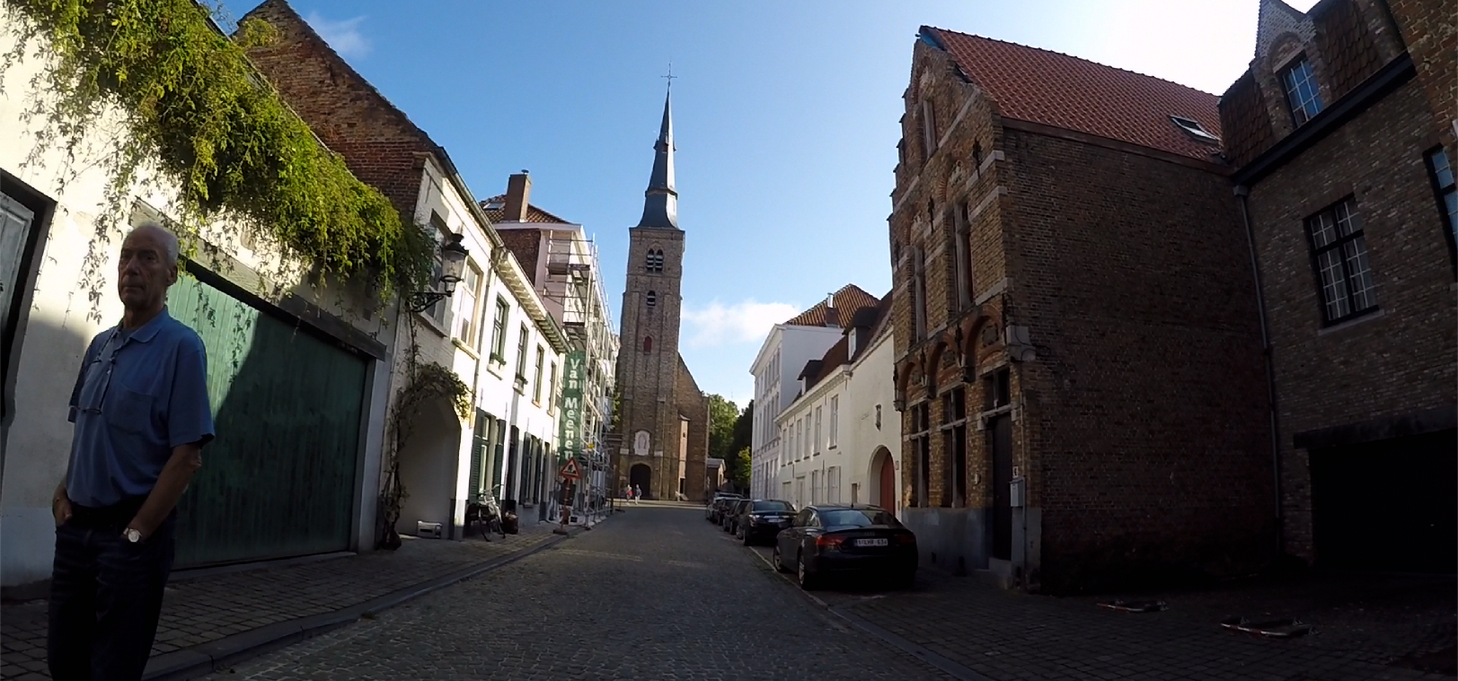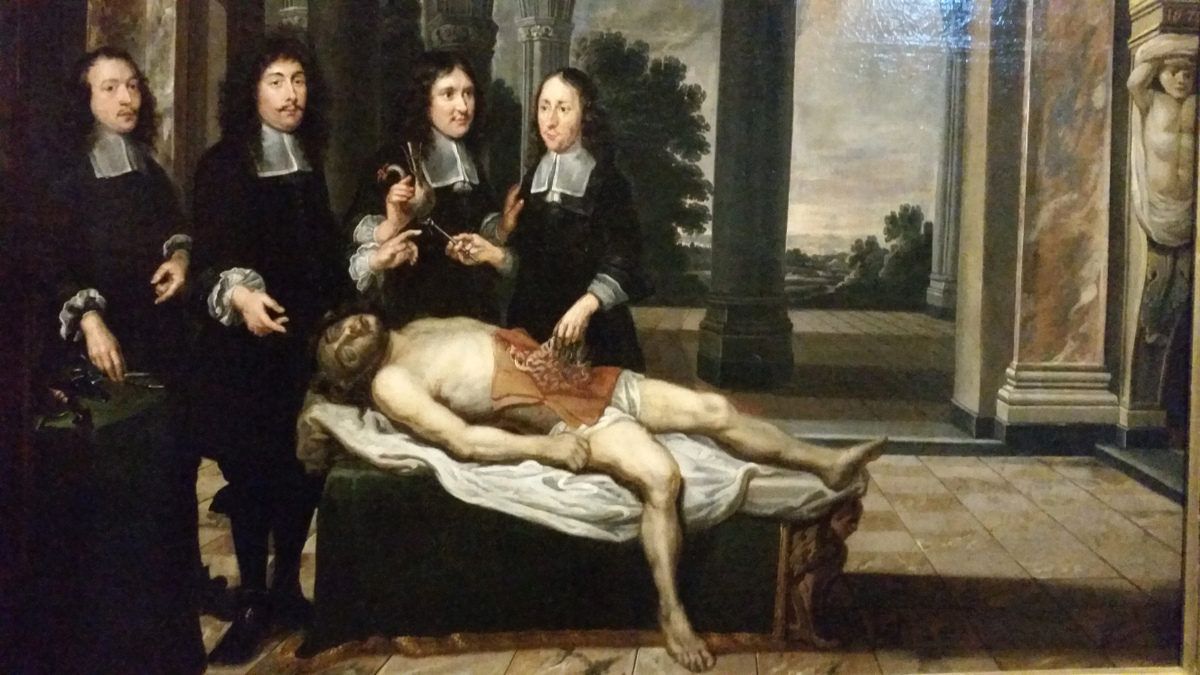 Ispod Fontana,  work for Zagre Muzicki biennale intrigued audiences …..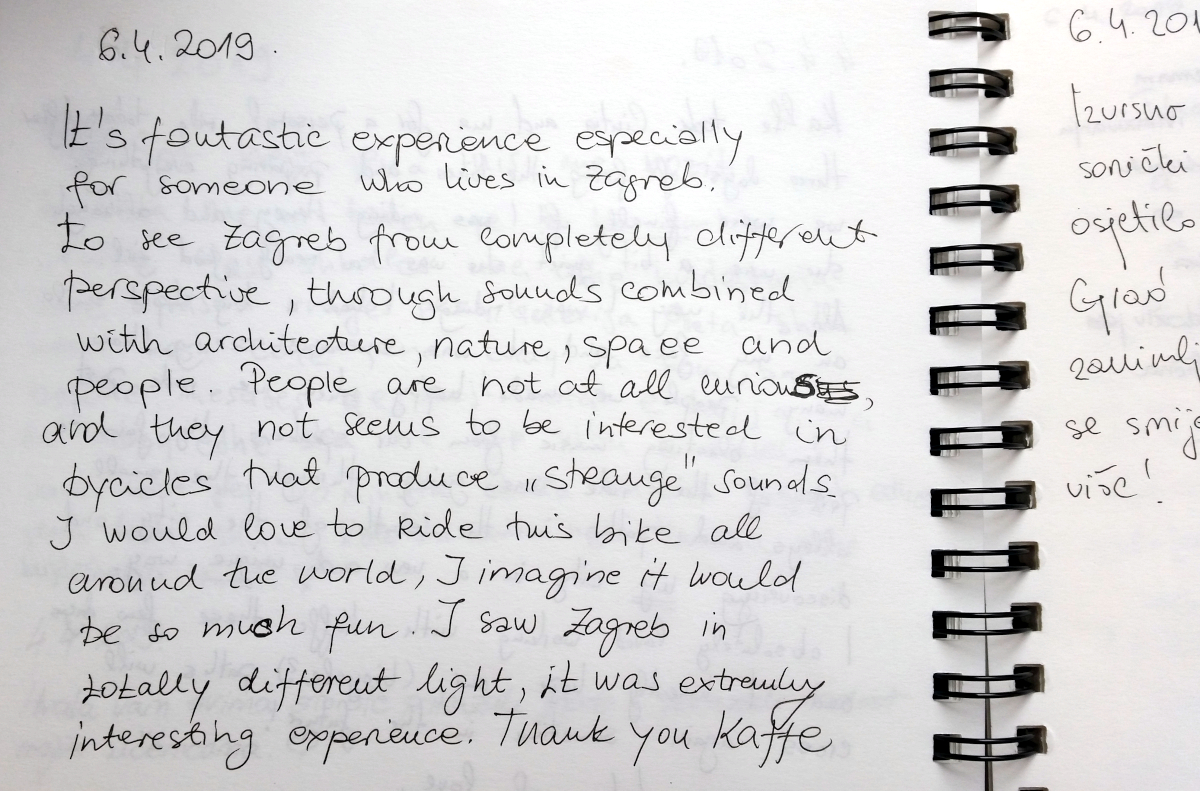 On golden hares closes

 – a new way to experience organ music and to explore daily life in the city.
For over 10 years, sound artist Kaffe Matthews has been making and developing compositions on special bikes that are musical instruments  – or instruments that are bikes. With GPS and a mounted speaker system, riders can explore the city. Developed with the Bicrophonic Research Institute, Kaffe's Sonic Bikes have run on the streets of Berlin, London, Brussels, Houston, Hailuoto, Porto, Ghent, Dublin, den Haag and Zagreb in 2019.

Now five sonic bikes have been made in collaboration with the Kunstmuseum Unser Lieben Frauen for  Ambitus, Art and Music Today exhibition.  Visitors can come borrow them and experience the city in a new way by following the 30 min composition which changes depending on where you ride.
On golden hares  was previewed 11.08.18 15.00h  in front of the Kunstmuseum, to an enthusiastic welcome, and runs until January 1st 2019.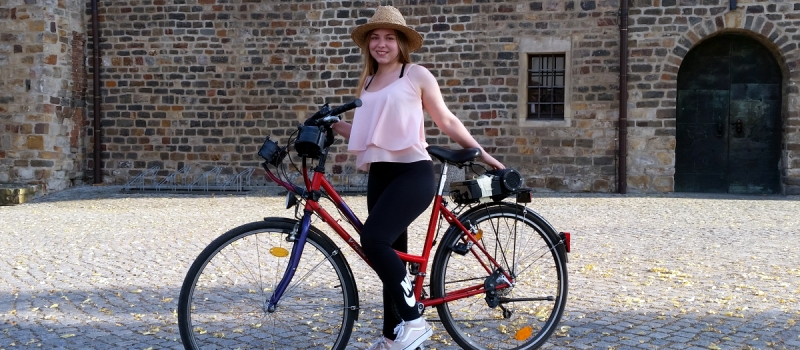 Buzz Bike launches at Wheel Ways, Herbert Art Gallery & Museum, Coventry, Sept 2018
The new Buzz Bike, a sonic bed on wheels giving an 8 channel sound and vibration experience to it's riders. For both someone to pedal and someone to lie in its vibrating wooden chamber, the Buzz Bike makes sonic cycling more accessible for more people – from mixed abilities, to non-cyclists and those of all ages.
Sonic kayaks in Plos Biology Journal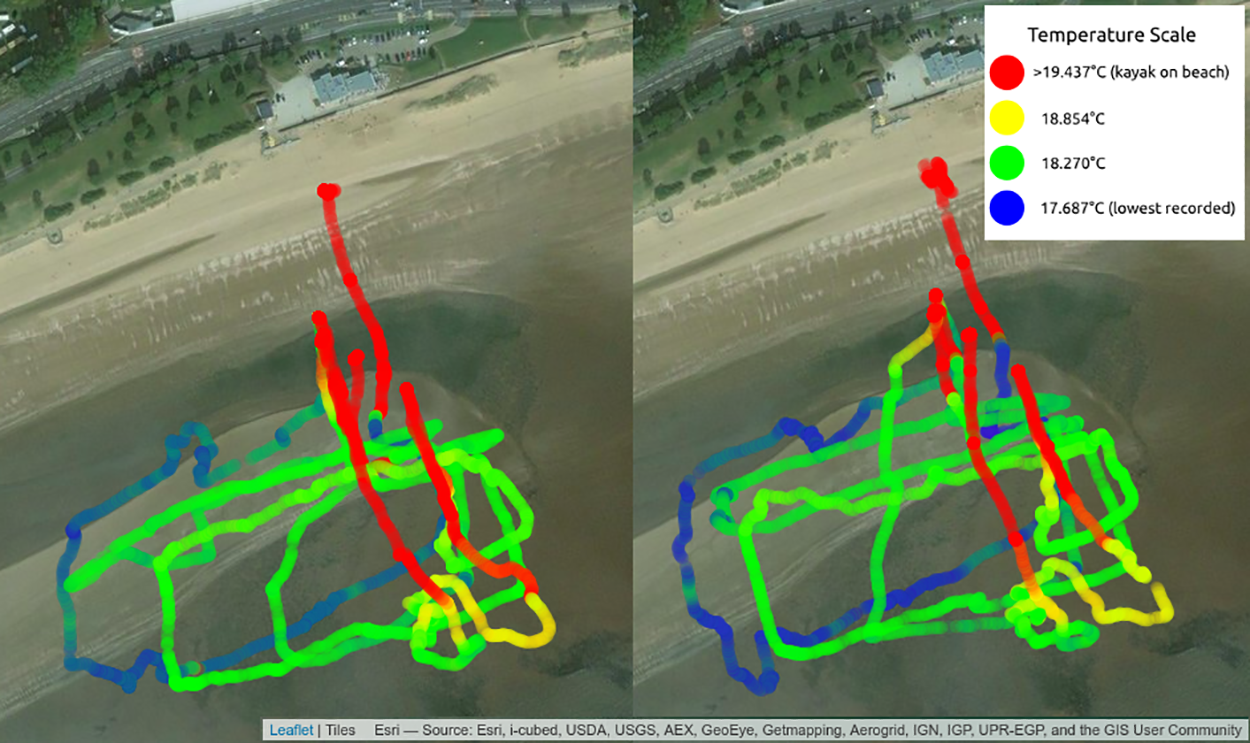 Sonic Kayaking featured in the biology journal PLOS: Sonic Kayaks: Environmental monitoring and experimental music by citizens by Amber G. F. Griffiths, Kirsty M. Kemp, Kaffe Matthews, Joanne K. Garrett and David J. Griffiths
'The Sonic Kayak is a musical instrument used to investigate nature and developed during open hacklab events. The kayaks are rigged with underwater environmental sensors, which allow paddlers to hear real-time water temperature sonifications and underwater sounds, generating live music from the marine world. Sensor data is also logged every second with location, time and date, which allows for fine-scale mapping of water temperatures and underwater noise that was previously unattainable using standard research equipment. The system can be used as a citizen science data collection device, research equipment for professional scientists, or a sound art installation in its own right.'
Plus Biology features works of exceptional significance, originality, and relevance in all areas of biological science, from molecules to ecosystems, including works at the interface of other disciplines, such as chemistry, medicine, and mathematics. We also welcome data-driven meta-research articles that evaluate and aim to improve the standards of research in the life sciences and beyond. Our audience is the international scientific community as well as educators, policy makers, patient advocacy groups, and interested members of the public around the world.