but it's all fake Kaffe !
I have spent the afternoon slowly cycling along the river Pegnitz from the lake in the west to a wild and gorgeous park in the east. Along the way there are all kinds of bridges, neat medieval buildings charmingly slotted in here and there with willows tastefully draping and special attractions like the European beaver being reintroduced. I am staggered at how perfectly restored it all is. This was the heart of Hitler's HQ. Why wasn't it all destroyed in WW2? …the finance within this city must be incredible?!  and I am so reminded of a fake medieval European village I was shown in Shanghai whilst on Sonic Bed making in 2006. I am also surprised to be liking the chnging river path so much and seriously considering using this as a route for the sonic bike work I'm here to research for October.
Back at the COVID bound hotel, only able to meet in the foyer at a distance and have beer from the fridge despite the extravagant single malt display ( fortunately I did find a locally smoked variety (beer would you believe!) earlier), I am told that this architectural perfection I am gasping at it IS entirely fake. Yes, the city was destroyed and yes, it was entirely rebuilt. What a thing to do.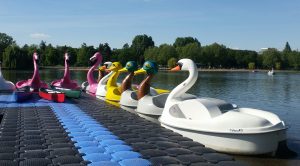 I am also thinking these guys would be fantastic bicrophonic alternatives.